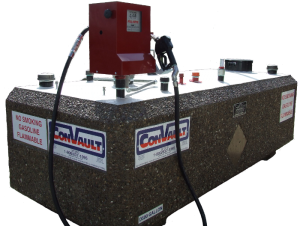 ConVault® Aboveground Storage Tanks
Since 1986 ConVault® Aboveground Storage Tanks have been the industry leader in UL 2085 protected ASTs. No other aboveground storage tank has ConVault®'s proven track record for reliability, durability, and ease of installation. Currently there are over 30,000 ConVault® sites in service around the world without a single reported system failure. Not surprisingly, ConVault® is the number one choice of AST for many local and federal government agencies.
Advanced Fuel Systems has proudly been a ConVault® distributor since 1986, the first distributor east of the Rocky Mountains. All of our ConVault® tanks are manufactured in Ohio and receive exhaustive production testing before they leave the factory.
ConVault vs. Underground Tanks
In the interest of protecting the environment government regulations and guidelines concerning the installation, operation and removal of underground storage tanks (USTs) are becoming increasingly stringent. The cost of keeping in compliance with these regulations increases every year. UST's corrode, leak into the soil and cause soil contamination. The contaminants may reach the underground water streams and could be carried into the drinking water systems. A single leak into the environment from an UST can easily cost over an hundred thousand dollars to clean up.
The solution to these problems is a ConVault protected aboveground storage tank. ConVault ASTs meet all safety requirements for primary/secondary containment, leak monitoring, spill containment and overfill protection. ConVault ASTs have been approved by environmental/fire protection officials in over 27,000 global sites including all 50 states in the USA and all provinces in Canada. ConVault's superior historical performance has been the cornerstone of this regulatory comfort with the ConVault AST design.
What Makes a ConVault so tough?
ConVault® tanks are manufactured using a patented design which provides two hour fire protection, vehicle impact resistance, and ballistic resistance proven by Underwriters Laboratories of USA (UL) and Canada (ULC) tests.
The ConVault design consists of four main parts.
The steel inner tank manufactured in accordance with the UL standard 142 and ULC standard S601. The steel tank must pass a number of quality control tests including a 48 hour pressure test at 5 psig.
The tank is then wrapped in ¼" Styrofoam insulation surrounded by an impervious barrier of 30-Mil high-density polyethylene membrane (HDPE). This prevents the steel tank exterior form coming into contact with the concrete thus protecting it from corrosion and providing secondary containment in the unlikely event of a release from the steel tank.
The outer vault consists of 6 inches of reinforced concrete. The vault is made using a single "monolithic" pour, insuring there are no joints and no heat sinks in the concrete to carry heat from a fire into the primary containment.
The concrete exterior of the tank is covered in exposed aggregate then vacuum coated using a clear coat of sealant. All nipples protruding from the tank are powder-coated to protect them from corrosion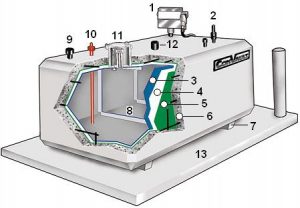 Regulatory, Safety and Environmental Compliance
Convault® tanks meet applicable safety requirements for secondary containment, leak monitoring, and spill protection. Convault® tanks are approved by regulators and fire officials in most local jurisdictions of the United Sates and many foreign countries. Convault® tanks are installed in 26 different countries worldwide.
Convault® tanks meet NFPA 30, NFPA 30A, UFC, BOCA, SBCCI, and IFC model fire codes safety standards. The units also comply with the 1996 Uniform Fire Code (UFC) Appendix A-II-F for the aboveground storage and dispensing of motor fuels.
ConVault AST's are CARB certified for use with Phase I and Phase II vapor recovery systems under Executive Order G-70-116 and revisions A through F. California is recognized as the national air quality expert and, having passed all field examinations by CARB, ConVault AST's are generally regarded as having met the severest air quality compliance standards.
The Convault® tanks have been tested and have passed all requirements of the following UL and ULC Standards:
UL – 142, aboveground tanks for flammable and combustible liquids.
UL – 2085, two-hour furnace fire test and two hour simulated pool fire test for insulated fire resistant and protected tank.
UL – 2085, insulated and protected secondary containment aboveground tanks for flammable and combustible liquids.
UL – 2085 and UFC SECTION (79-7) vehicle impact and ballistic impact test for protected tank.
UL – 2085/ULC S655 (CAN ORD-C 142.16) Non-Metallic Secondary Containment and Venting by Form-of-Construction.
UL – Standard 2244 Systems Listing for Motor Vehicle Fuel Dispensing.
UL CAN/ORD – C 142.16, protected aboveground tank assemblies for flammable and combustible liquids.
UL CAN/ORD – C 142.5, concrete encased aboveground tank assemblies for flammable and combustible liquids.
UL CAN/ORD – 142.16, the furnace burn and 142.5, the open (pool) fire testing for two-hour fire rating.
Order Your Convault® Tank Today!
Convault® tanks are available in a variety of sizes and configurations from 250 to 12,000 gallons including multi-compartment options.
Contact us to find out which Convault® is right for your fuel storage needs and request a quote.